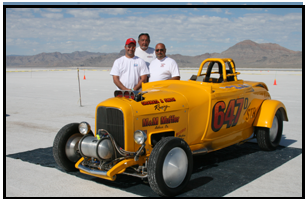 Our race headers have competed and set records in Bonnieville, IHBA, SCCA, WINSTON WEST, and USAC.
DG Custom Headers is also home to the worlds fastest D/STR "D street roadster". It is a 1929 Model A Roadster with a 300" small block Chevy, currently holding the record for the past two years and just recently breaking the 200mph barrier and setting a new record of 200.806 in September '09.
Our products and design have been proven at Bonnieville, the "liquid quarter mile", the Silver State Classic, and on the streets with ground pounding muscle cars. So whether you fall into one of these catagories or not, if you have any questions dont hesitate to give us a call. We would be more than happy to help.